It is common knowledge that over the past few decades, the American economy has shifted away from manufacturing as we move towards being a service and information economy.  At its peak in 1979, manufacturing employed over 19 million workers, which was over 22% of non-farm workers (https://www.bls.gov/opub/btn/volume-9/forty-years-of-falling-manufacturing-employment.htm).
The most precipitous drop occurred in the 2000-2010 period, as manufacturers increasingly moved facilities offshore to new and more automated facilities. Since 2010, manufacturing employment has recovered somewhat in total employment, but has not reached the levels seen in the late 1940's.
At present, manufacturing employment accounts for just under 10% of the labor force, with 15.8 million workers.
What we find particularly interesting is that the spatial patterns of manufacturing have changed significantly. The map below shows the percent of the labor force in manufacturing in 1990: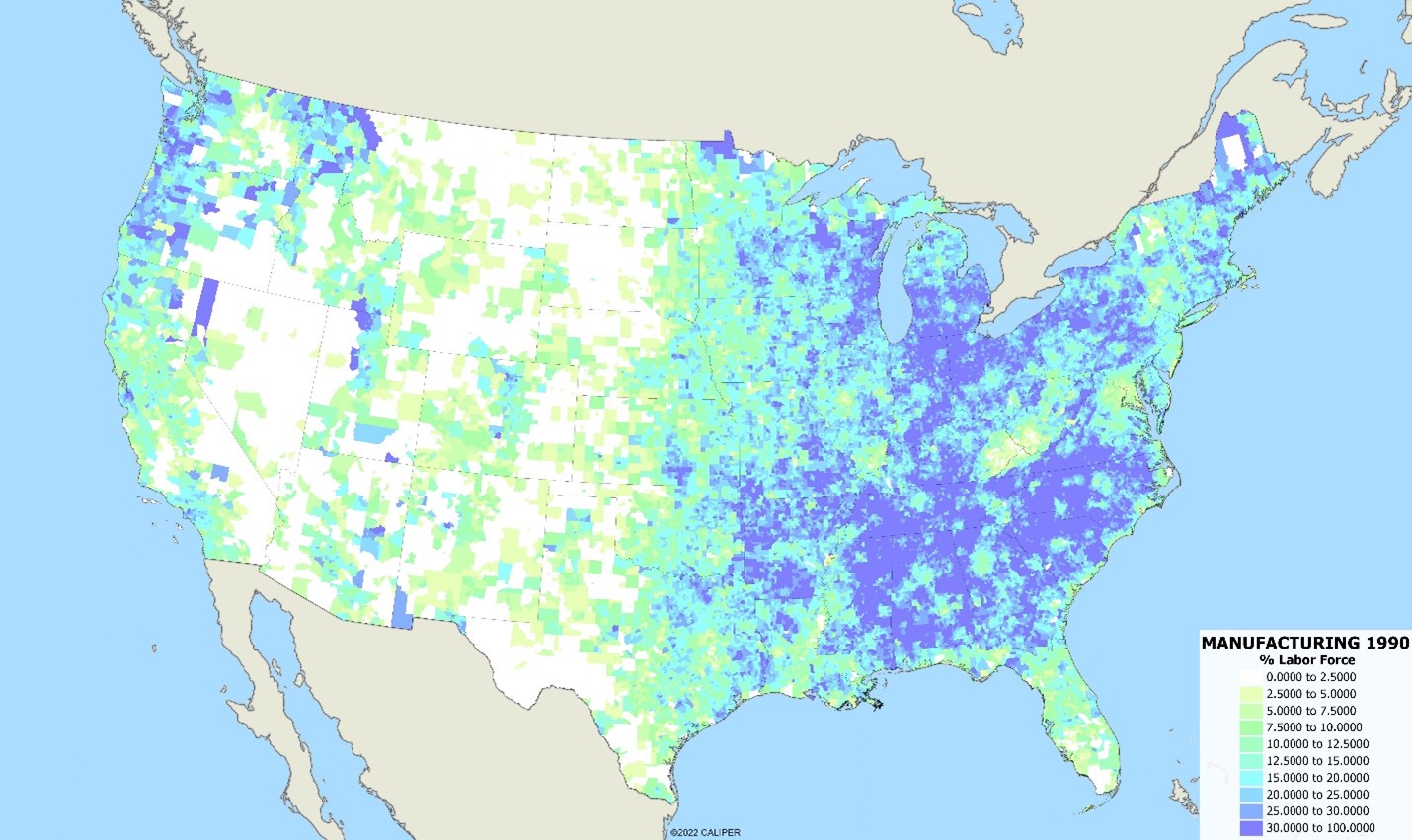 There were two main areas of industrial concentration – the traditional automobile and steel belt centered in southern Michigan and stretching from Wisconsin to New Jersey, and the emerging manufacturing in the southeast from the coast to the Mississippi valley.
Not surprisingly, the same map for 2022 shows fewer areas of high concentration: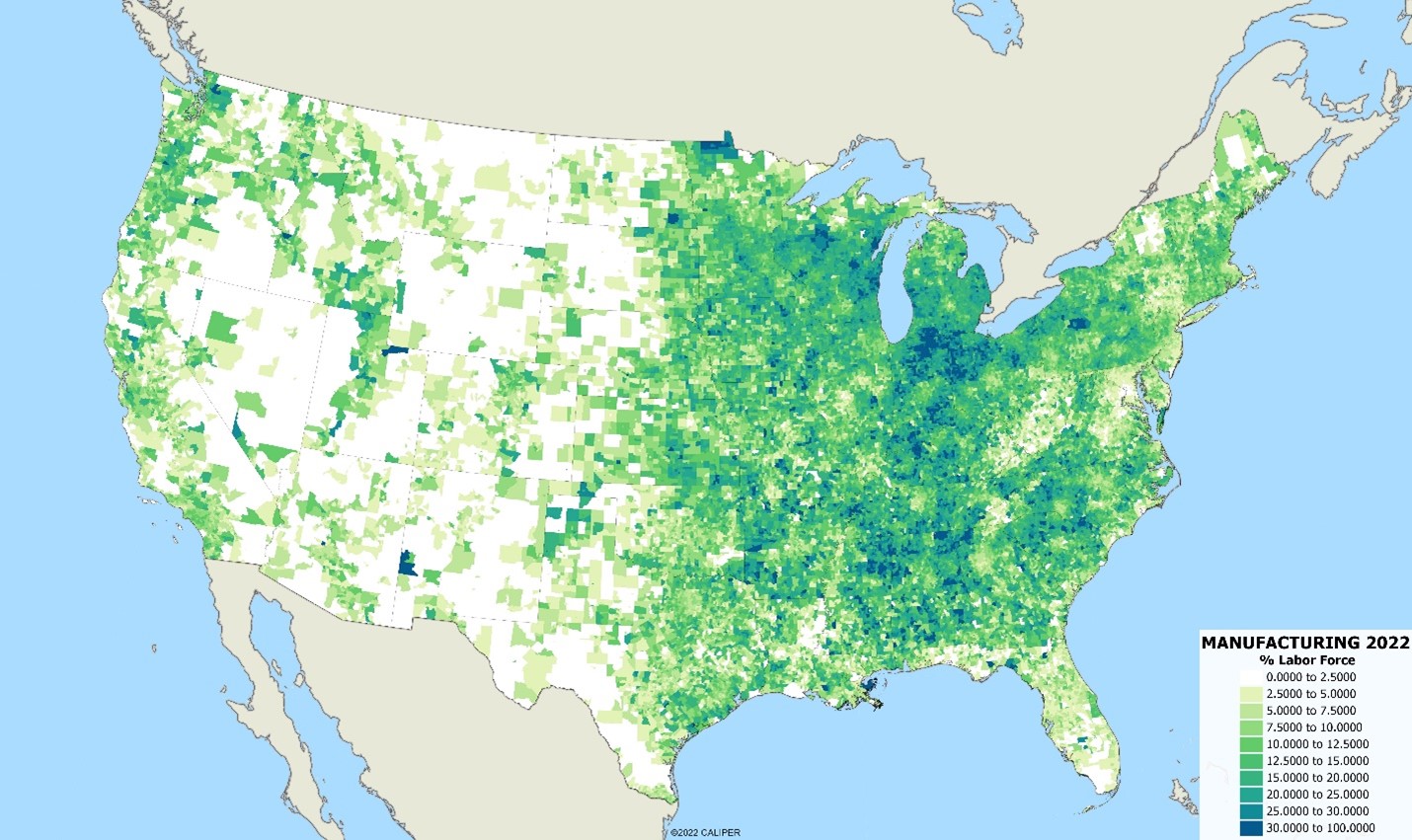 However, what is more interesting is that while overall employment has declined, there are some definite spatial patterns to that decline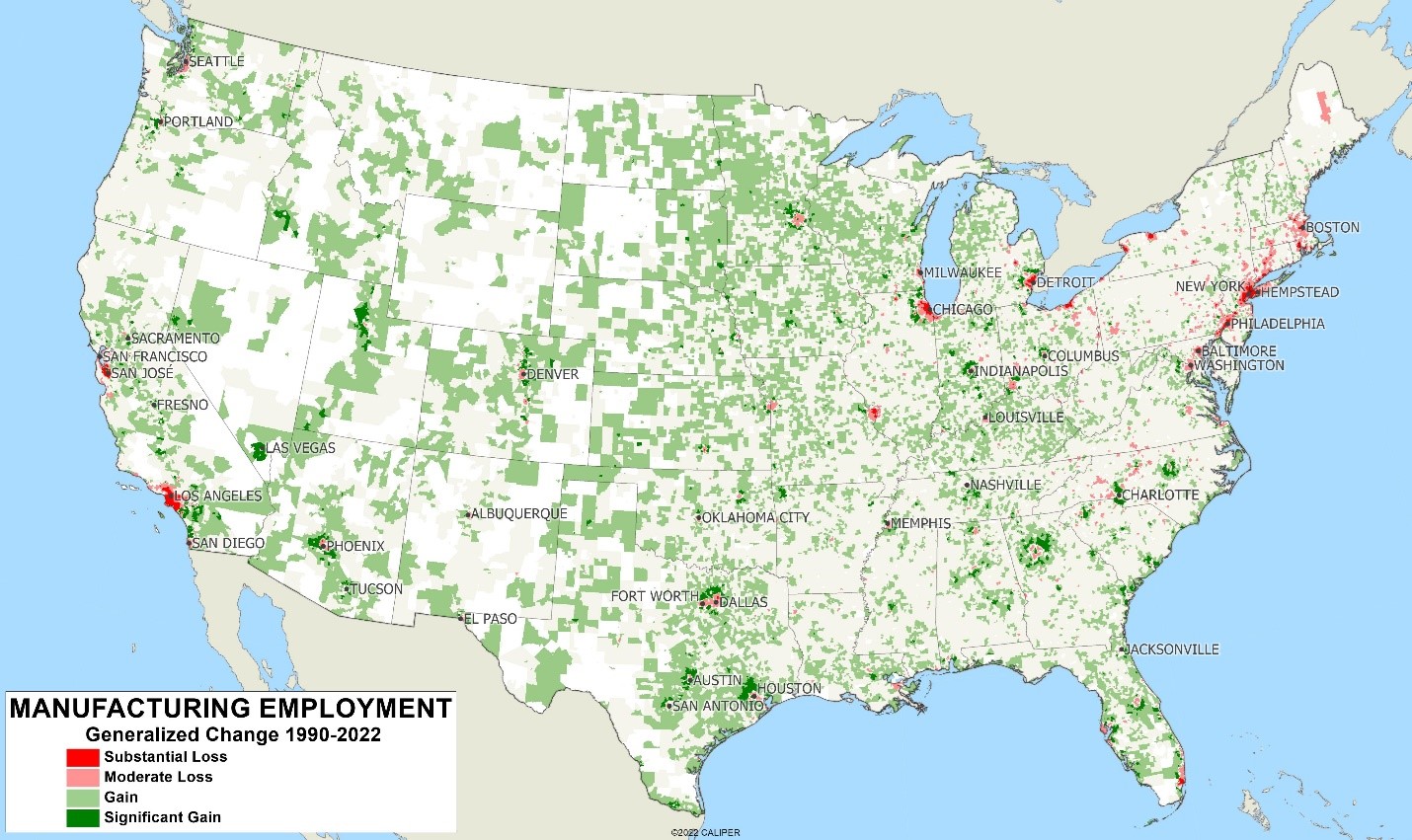 Despite the overall loss of employment, especially in the northeast, there are several key spatial patterns to note here:
Manufacturing losses have been largely in the major cities – the Boston-NY-Washington corridor, the main automobile centers of the Midwest, and both Los Angeles and the Bay area in California.
In many cases, the factories have moved from the core cities to the suburbs – see for example Atlanta and Dallas-Fort Worth. In the case of the Los Angeles basin, many have fled to the Phoenix-Tucson corridor and to the I-15 corridor between Las Vegas and Salt Lake City.
In many small towns from the Dakotas to south Texas, there are now more manufacturing jobs than there were just three decades ago, as many factories have relocated out of the high-cost urban centers.
The COVID-19 crisis brought with it some additional problems with logistics, and many manufacturers who sent their factories elsewhere are now having to at least revisit their decisions, and while we don't expect manufacturing employment to ever reach 20% of the labor force again, we expect to see at least a reversal of the now decades long decline over the coming several years.