San Diego is often ranked as one of the most beautiful places in the United States to live. As the 17th largest metro area, San Diego has seen average growth in the last 20 years, but saw a large growth from 1970-2000. With a population over 3.3 million people, and an average age of 36, this is a young, vibrant community. San Diego is one of the safest large cities, with crime rates well below the national average. The climate is very mild, with the range from summer to winter only changing by a 15.5 degree difference, the lowest of any major metropolitan area. As you can see, it is so secret why San Diego is such an attractive place to live.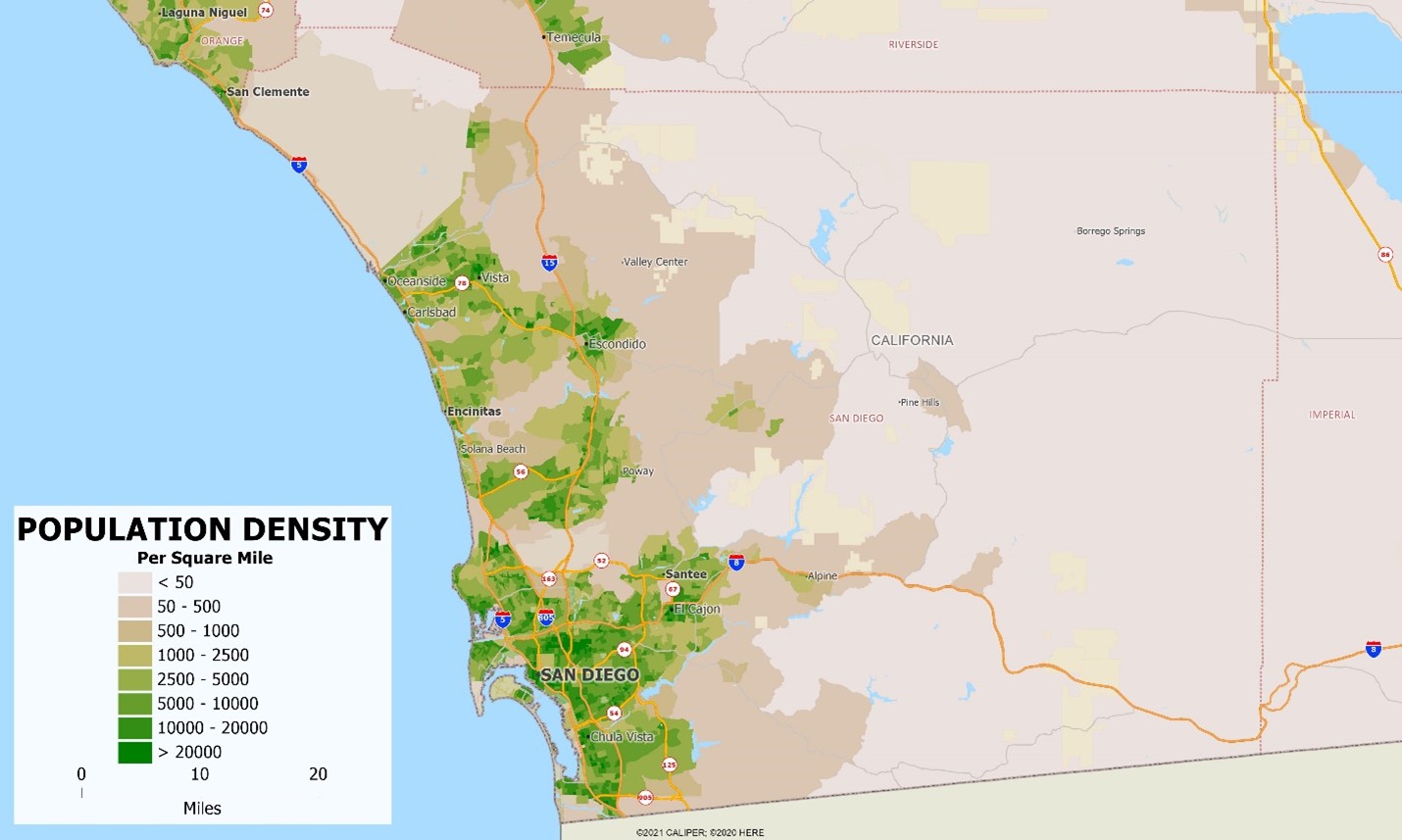 San Diego is fairly diverse, especially in relation to the national average. Both their Hispanic and Asian population are higher than the national average, with the Hispanic population accounting for 33.7%, and the Asian population at 12%. There is also a high percentage of bilingual households, just over 31%. Forty percent of adults have a University education, which is again higher than the national average. San Diego's most dominant Panorama segments are 11 Affluent Newcomers (13%), 35 Generational Dreamers (8%) and 10 Emerging Leader (7%).
The average income is nearly $20K more than that of the U.S. average, making San Diego a more expensive place to live as a result. The median house value is about $620K, nearly $400K over the U.S. average. Of course, the closer you are to the water, the more expensive the housing becomes. The map below shows the average home price for the area. As a result, there is a high percentage of renters, nearly 50% of all households.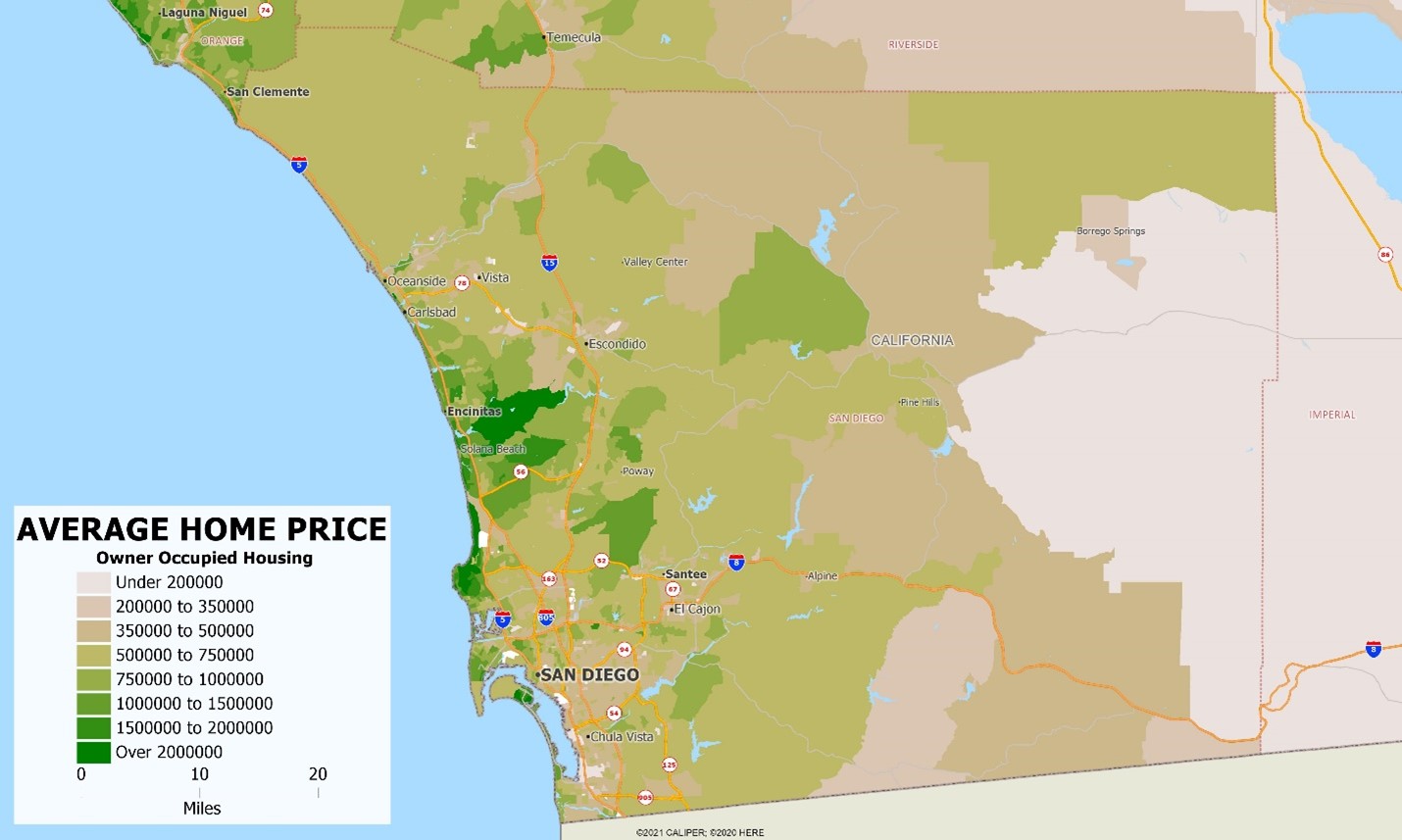 Driven by the presence of 3 major military bases, and more in the surrounding area, San Diego has a much higher than average percentage of the population that is employed by the military.  The large bases are Naval Base San Diego, Marine Corps Air Station Miramar and Marine Corps Camp Pendleton. There are also smaller bases including Naval Base Point Loma, Naval Base Coronado and US Coast Guard San Diego. Just under 1.5% of the population live in military housing. The map below shows the distribution of military employment amongst the population.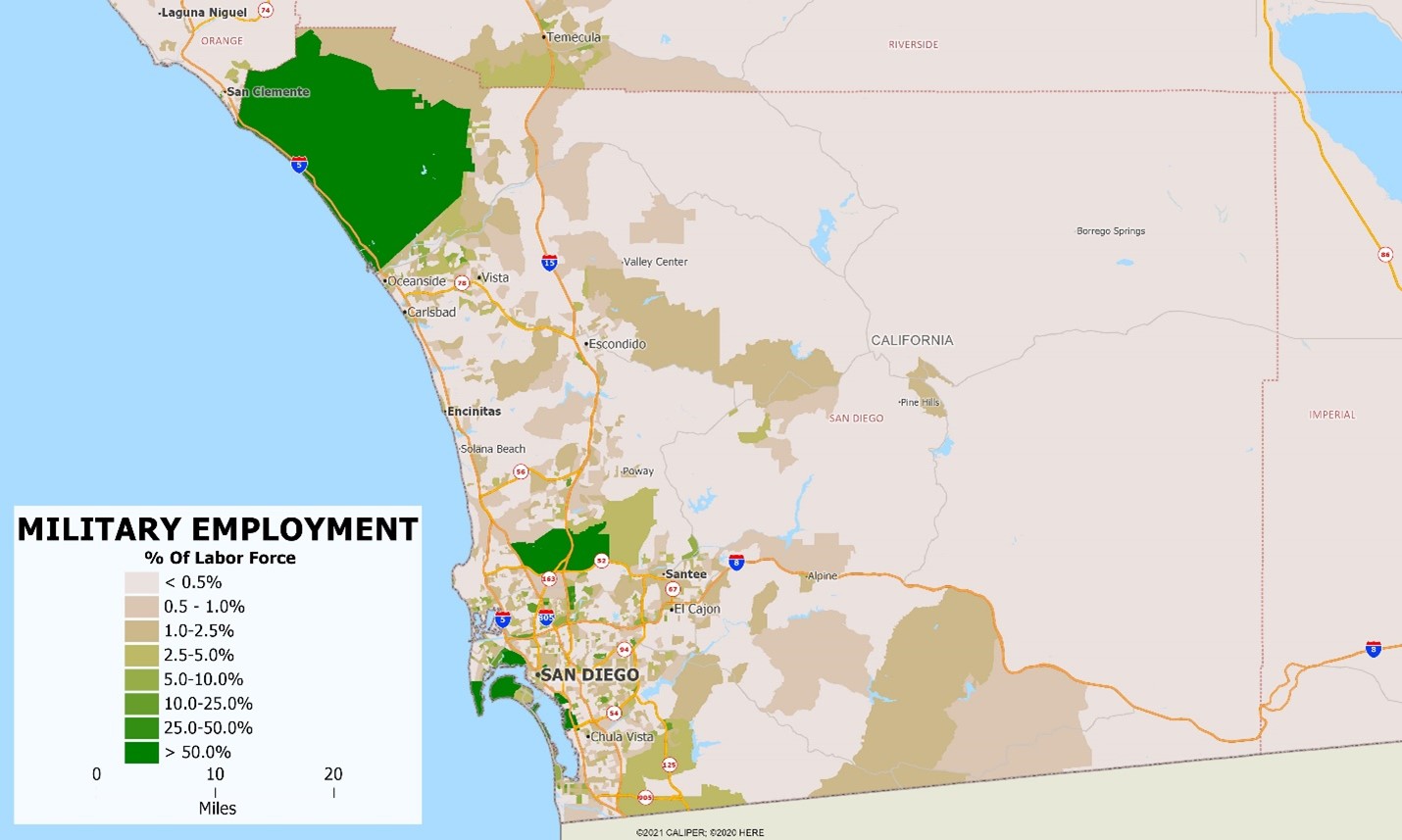 Outside of the military presence, the largest driver of economic growth for the area is tourism. As previously noted, the mild climate, access to the beach and safe metropolitan area drives tourism as it does with the population. On average, the overnight occupancy for hotels, staying with friends and family and camping is 323,000 people – more than Las Vegas on any given night. The map below shows where tourism is most common in relation to the residential population.
It is no secret as to why San Diego is such a popular place to live and visit.