In 1982, Billy Joel released "Allentown", a song about a town that is struggling once mining and manufacturing jobs have gone elsewhere. Allentown, Pennsylvania is the third largest city in the state, and the entire metropolitan area is the 68th largest in the country. Once a center of industry and mining, Allentown has done a great job of evolving over the years to remain a relevant city center with a growing population.
While mining was the backbone that the area was built on, today the employment landscape looks different. With Bethlehem Steel bankrupt (and no major steel mills left in the area), and Mack Truck moving their headquarters to North Carolina, citizens had to find new employment. Manufacturing still represents 11.8% of employment, healthcare and social assistance dominates with 15.5%. Other notable industries include wholesale trade, retail trade, transportation, and warehousing.
Since 1970, Allentown has seen a 44.5% growth rate, impressive for the region when compared to cities with similar demographic backgrounds. The map below shows the population change from 1970 to today.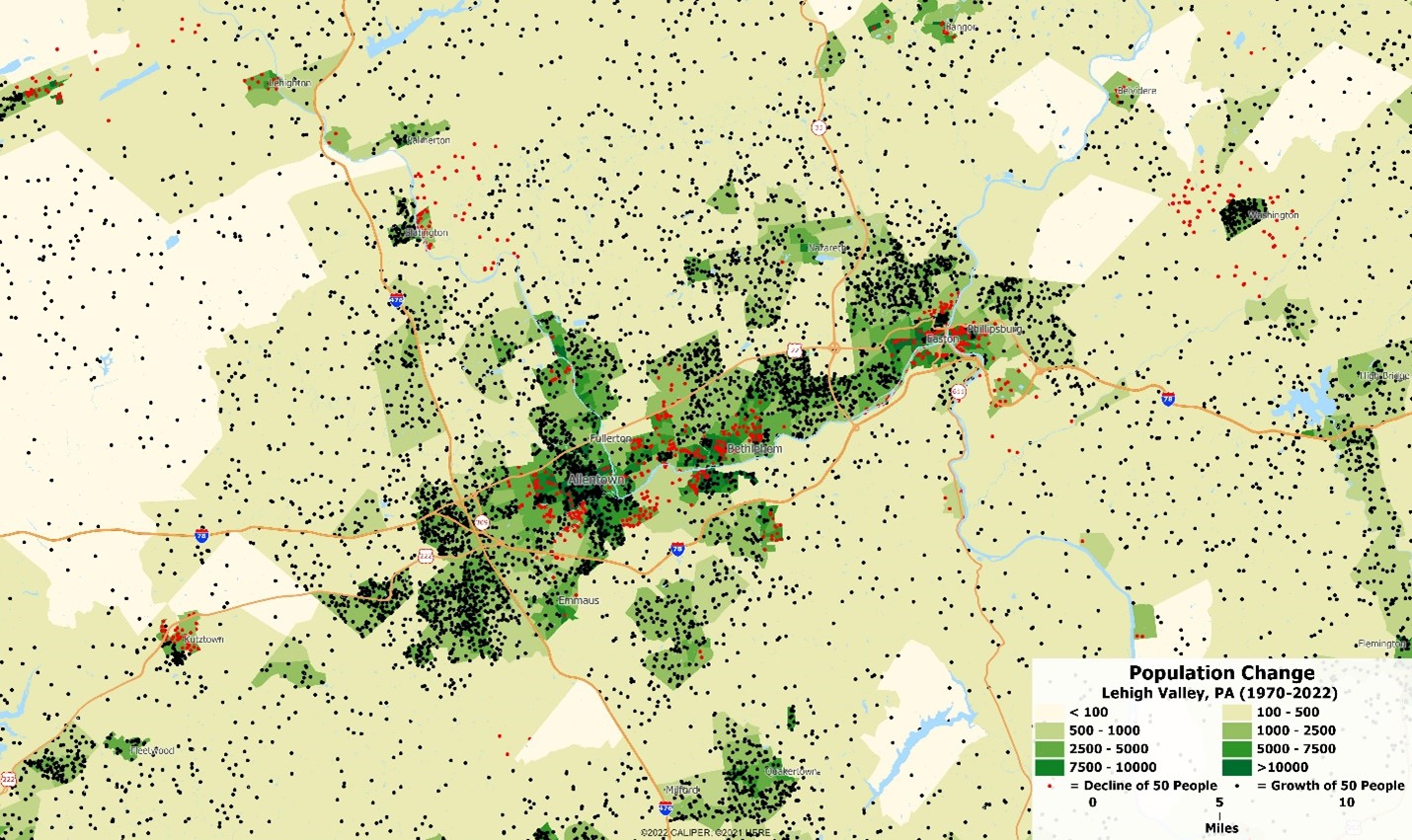 When you look at similar cities, Allentown has fared far better than other former mining towns. Some of this is due to geography, as it is better connected to the major cities of the northeast like Philadelphia and New York. In 2006, Las Vegas Sands Corp began work on the Wind Creek Bethlehem casino – on the historic Bethlehem Steel site, which has brought new jobs and tourism to the metropolitan area. Allentown also benefits from a more diverse employment profile when compared to similar cities, including health care specialization and a continued focus on transportation related industry. With everything the area has going for it, growth is likely to continue.
And in case you are wondering, some lyrics to "Allentown":
Well, we're living here in Allentown
And they're closing all the factories down
Out in Bethlehem, they're killing time
Filling out forms, standing in line
And we're waiting here in Allentown
But they've taken all the coal from the ground
And the union people crawled away