Last week, Starbucks announced that it was permanently closing 16 locations due to crime concerns, five of which are located in their headquarter city of Seattle. They aren't the only business experiencing higher than average crime. After a string of armed robberies in the Los Angeles area, 7-11 corporate encouraged franchisees to close temporarily, though two suspects in the case have now been arrested. Now more than ever, crime rates should be a factor in site location decisions. But what happened in Seattle? Let's look at the areas where the stores are closing.
For years, CrimeRisk has been a trusted database used by insurance companies, shopping centers, retailers and many other companies evaluating the relative risk to their employees, stores and merchandise. CrimeRisk is intended to provide an assessment of the relative risk of seven major crime types and their summarization to the block group scale for both personal and property crime. AGS produces this data for the current year, and also for a 5-year projection. For Seattle, we consolidated theft, burglary and larceny and mapped those variables. The results show that 3 of the 5 closing locations are in some of the worst areas of Seattle for crime, and the other two are adjacent to high crime areas. You can see on the map below the stores that are closing (marked with coffee cups), with the crime shown as a heat map using block group centroid CrimeRisk within a distance weighted half mile radius.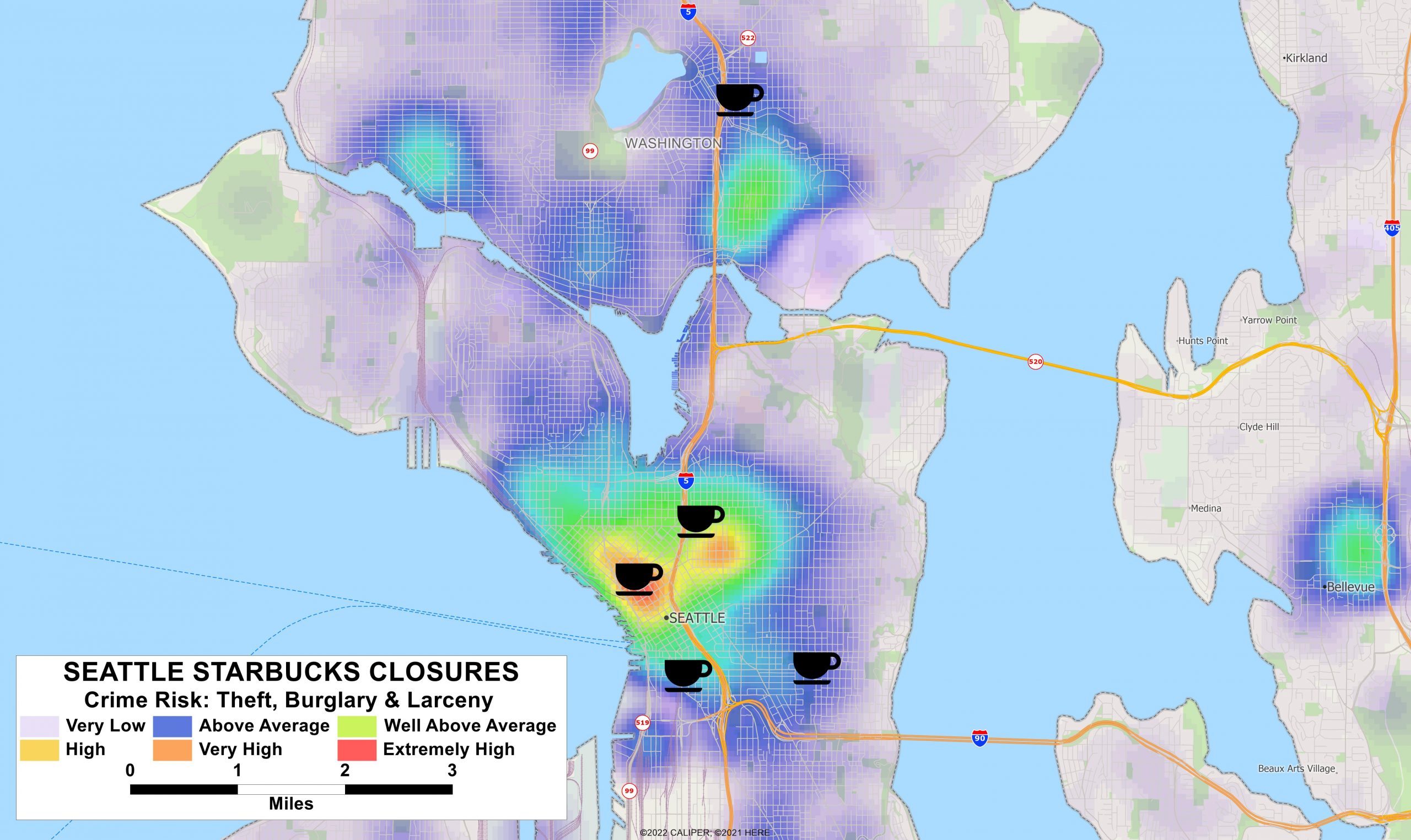 While crime is not always a factor when selecting a retail location, examining the crime rates of the trade area you are looking at could save you headaches and money down the road as closing stores presents challenges for your business and can be costly. For Starbucks, 16 stores is a small amount of their total stores, but even in this economy, they will surely see an impact from these closures.