Once a prominent home of Native American tribes, settled by pioneers from the Mormon church and a prominent trading post during the gold rush, Salt Lake City today looks a little different than its humble beginnings. While once home to mostly LDS members, the city is now home to a much more diverse population and a shrinking church membership. While it has been experiencing a wave of growth, the geographic limitations may place limitations on this now popular city.
In the 1980's Salt Lake City was home to nearly 45% of the entire state population, and today is still the dominant population center of Utah. Since 1980, the city has seen a growth rate of 97%, making it the 47th largest metropolitan area in the country. In 1980, 95% of the population was white, and today, only 72% of the population identifies as white, making it a more diverse area. Much like other cities in the Mountain states, Salt Lake City has become an area that draws middle class families. Nearly 42% of the population are families with married parents and children in the household, nearly twice the national average. Median home values are just over $350,000, and cash rent is just over $1,000 a month, which is in line with an average household income of over $100,000 in the metro area.
The vast majority of the population lives near the north-south valley along the Wasatch Front. This is a very arid area, but the lake itself actually generates "lake-effect" snow in the winter, making the climate less desirable for some individuals. The valley is heavily irrigated, although air pollution is a significant issue because the air gets trapped in the valley. Expansion is highly limited due to the surrounding bodies of water, as well as mountains that aren't easily built on. The dispersion of their current population can be seen on the map below.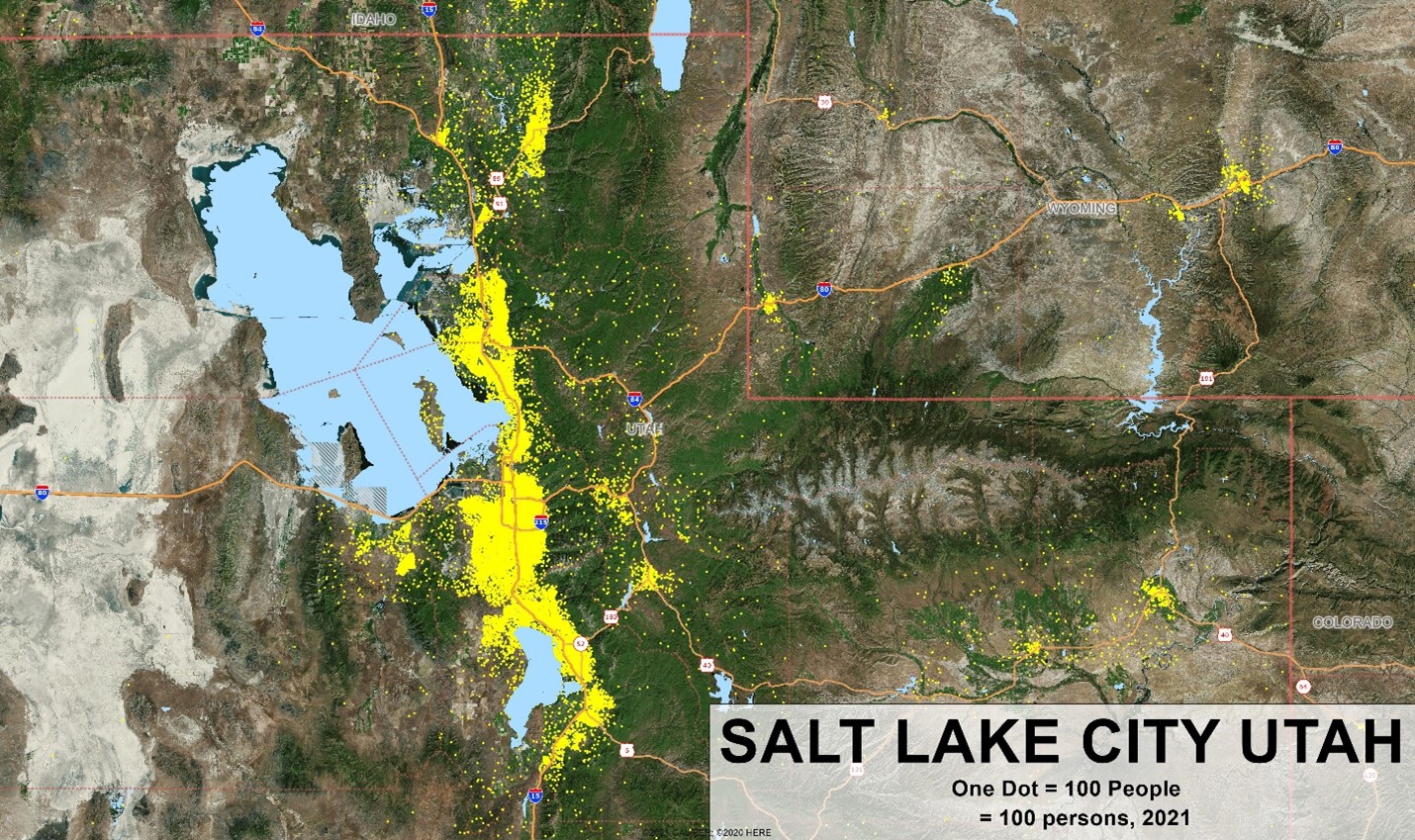 With more people leaving the major cities for a slower pace of life and work from home opportunities, will Salt Lake City continue to see growth? Or will the beautiful lake that drew some people to the area limit its potential?