Sitting on the Boise River in southwestern Idaho, Boise, the capital city, is the most populated city in the state. The Boise metropolitan area, referred to as Treasure Valley, is the 76th largest metropolitan area in the country. And while that might not sound remarkable, the area is seeing explosive growth in the last 40 years. Boise is home to around 789,000 residents, a growth rate of 178% since 1980. Boise has become a popular destination for those fleeing the hustle and bustle of the city in recent years, and will likely continue to grow until the terrain restricts growth.
Home to diverse, young families, Boise is attractive to those seeking a middle-class, family friendly environment with a four-season climate. While in 1980 Boise was home to a 96% white population, it is now far more diverse with 79% of its population identifying as white. Median home values in the area are just under $300,000, and median rent is under $1,000 a month, making Boise relatively affordable, especially to those fleeing from neighboring states like California and Washington. The average household income in Boise is just under $84,000 a year, making it slightly higher than national averages.
Terrain is the limiting factor in Boise's future growth. As you can see on the map below, the only real expansion is to the west of the city – on the east and north it is hemmed in by mountains.  To the west is excellent farmland – rare in the mountain west. However, long commutes from the areas that may be home to future new build communities may limit the attractiveness of the area, though over 8.5% of the population has the luxury of working from home.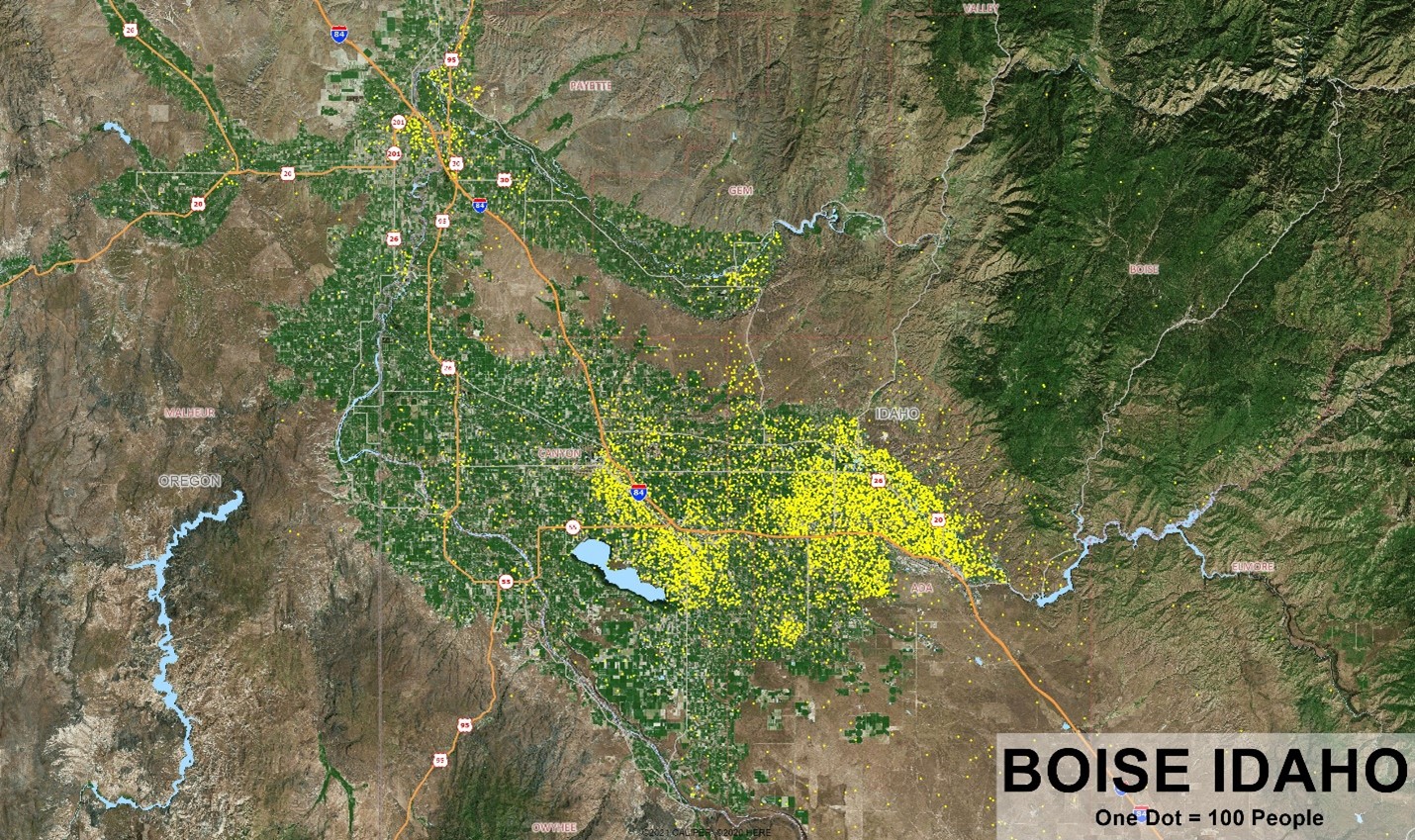 Only time will tell on Boise's future growth potential. Will the landscape be it's limiting factor? Or will Boise become a densely populated metropolitan area?