Baltimore, Maryland, was settled in 1661 by European colonists. Once a major center for flour trade due to innovations in processing and development in the milling process, then the city that developed the first printing press and newspaper, the Baltimore of today is unrecognizable from its past. Baltimore is now the most populated city in the state of Maryland as the 30th largest city in the U.S. When looking at the larger metropolitan area, the Baltimore-Columbia-Towson area is the 20th largest metropolitan area in the country. While those sound like impressive stats, the city has seen some decline in population over the last few decades. What is causing this decline?
Since 1970, the city of Baltimore declined in population from 902,623 to 579,221, a total of 36% decrease from 1970-2020. In 2020, Baltimore lost more population than any other major city in the United States. The map below charts this decline in the city, and the growth in the surrounding area, since the 1970 Census. As you can see, the city center has seen a significant decrease, with the population stabilizing outside of the city center and growth occurring in the suburban areas.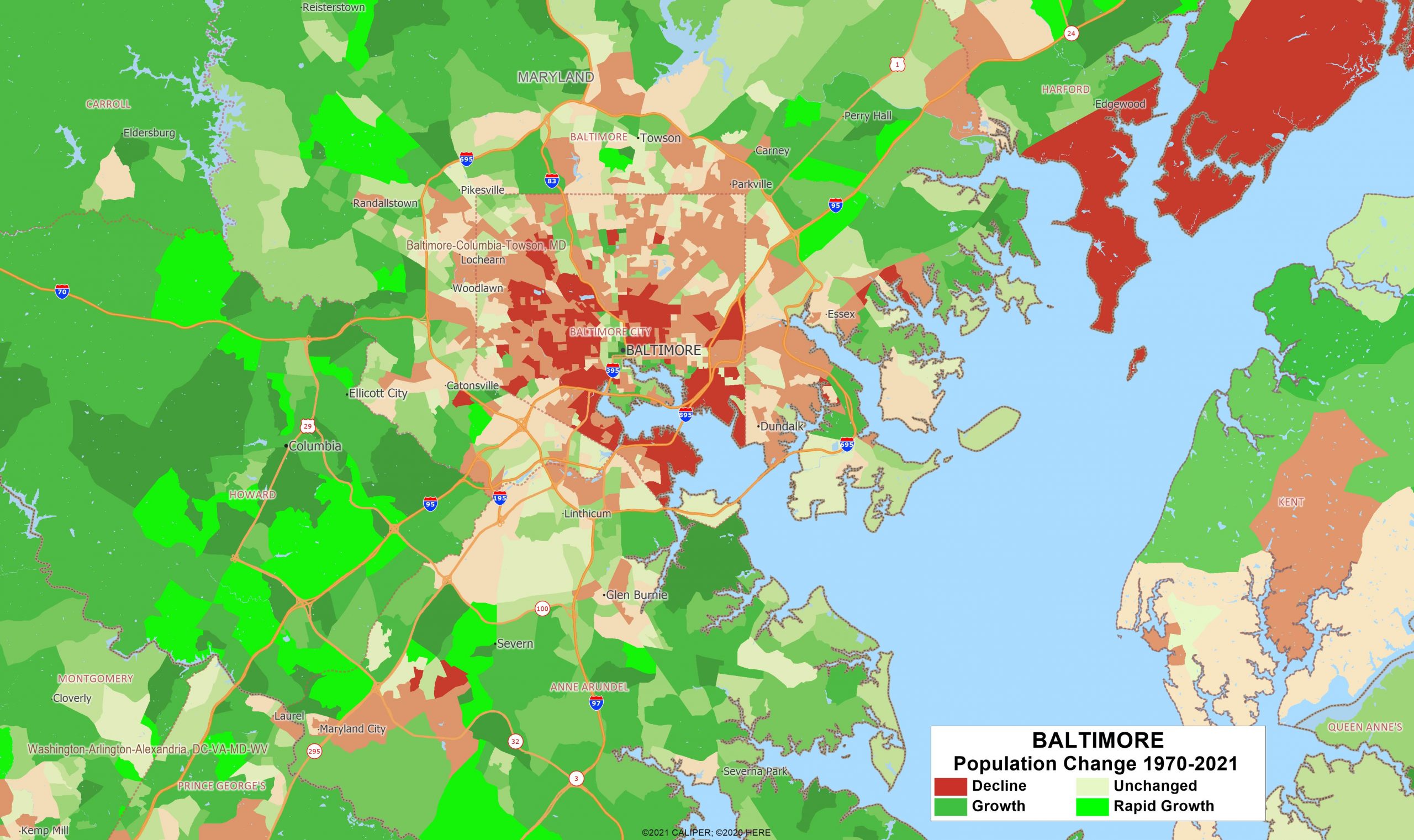 Baltimore is a young, diverse metropolitan area. The median age is about 38 years old, just younger than the average age for metropolitan area. Overall, about 29% of the population is Black, and about 6% is Asian. The majority of people living in the metropolitan area are either single or married without children.
Occupations in the Baltimore area are heavily influenced by the proximity to Washington, D.C. Approximately 10% of the workforce is employed by the government. The vast majority, nearly 77%, of the population drives to work alone. Public transit and walking are not popular methods of transportation. Median income in Baltimore is $85,148, and average house values are $314,000. Many of the homes are in attached units and smaller apartment buildings, with rent at an average of $1,138 a month.
Over the last decade or so, gentrification has been taking place within parts of the city. Will continued gentrification bring people back into the city? Or will Baltimore continue to see a decline?