When you think about hot areas in the country, Denver probably comes to mind. If you are a millennial—or even a member of Gen Z—you probably know someone who has moved to Denver in the last few years. For many, the climate, and progressive lifestyle, have drawn them to the area, and they aren't alone. Since 1970, Denver has grown by 167%, from a population of 1,116,608 to 2,543,482. For all metropolitan areas of over 1 million people, the growth has been only 69%. The GIF below shows the population growth from 1970-2021, with each dot representing 100 people.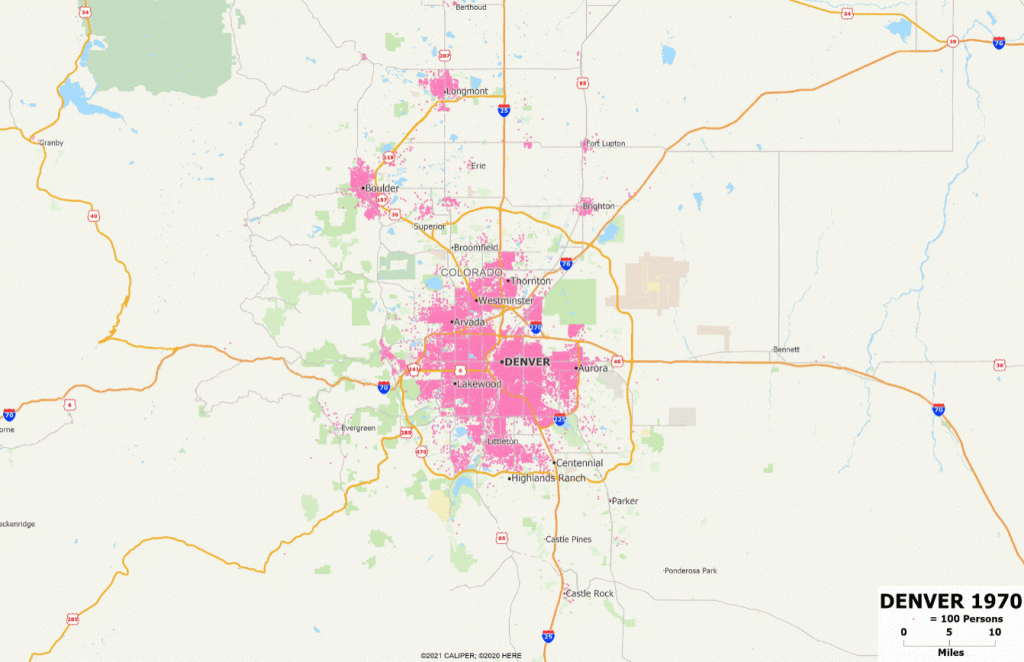 Denver ranks high in many demographic categories. The city and its population are ranked 4th highest for college degree holders, 3rd in youngest households, 11th in housing built since 2015, 2nd in labor force participation and 6th in median household income, just to name a few. Denver was 51.2% of the Colorado population in 1970, and is now 51.7% of the Colorado population, which mirrors the overall growth of Colorado.
Part of what attracts people to Denver are the career possibilities. In terms of industries, the federal government has a major presence in the area, specifically the Department of the Interior, and major military bases nearby. Other major employers include the state of Colorado, and the University of Colorado. There are 19 Fortune 1,000 companies in the Denver area, including Newmont Mining, Molson-Coors, DISH Network and Chipotle to name just a few. Denver ranks 3rd in self-employment, and 3rd for working from home.
As previously mentioned, Denver has lots of new housing, and it comes at a premium. With the influx of people, new houses are going up quickly. Housing costs are high, ranking in at 11th in the country of major metropolitan areas with a population of at least 1 million.
Denver has had a slow, steady growth, which allowed for them to plan for infrastructure. The 470 loop freeway was planned in the 1960's but remains incomplete, despite the state continuing to build that roadway. While the city of Denver has grown by about 200,000 people since 1970, surrounding cities have had massive growth. Cities like Aurora, which had 81,000 residents in 1970, now has a population of 381,000. Castle Rock had a modest 2,000 total residents, and now has 72,000.
Will Denver continue it's slow and steady increase in population? As it's popularity grows, affordable housing and infrastructure will be key to continued success.