Home to nearly 3 million people and the 21st largest metropolitan area in the country, St. Louis gained in population in the late 19th century, benefiting from the industrial revolution on the edge of the rust belt. It was then that major corporations including Anheuser-Busch and Ralston Purina made St. Louis their home and are still among the largest employers in the area. The city hit its peak population with the 1950 Census and suburbanization has sent the core city population out to the larger metropolitan area. With a renewed focus in recent years on gentrification, can the city overcome its industrial past, and embrace a modern future?
Since 1970, St. Louis has seen a very minimal amount of growth of just 11.4%. When you compare that to the top 20 metropolitan areas, they have an average of 130%, with the only metropolitan area with less growth in the last 50 years being Detroit. The map below shows that the city center is experiencing massive declines, along with the metropolitan area in Illinois, though the suburbs to the west and far north are experiencing the growth. Blue dots represent a growth of 50 people, while red dots represent a decline in 50 people.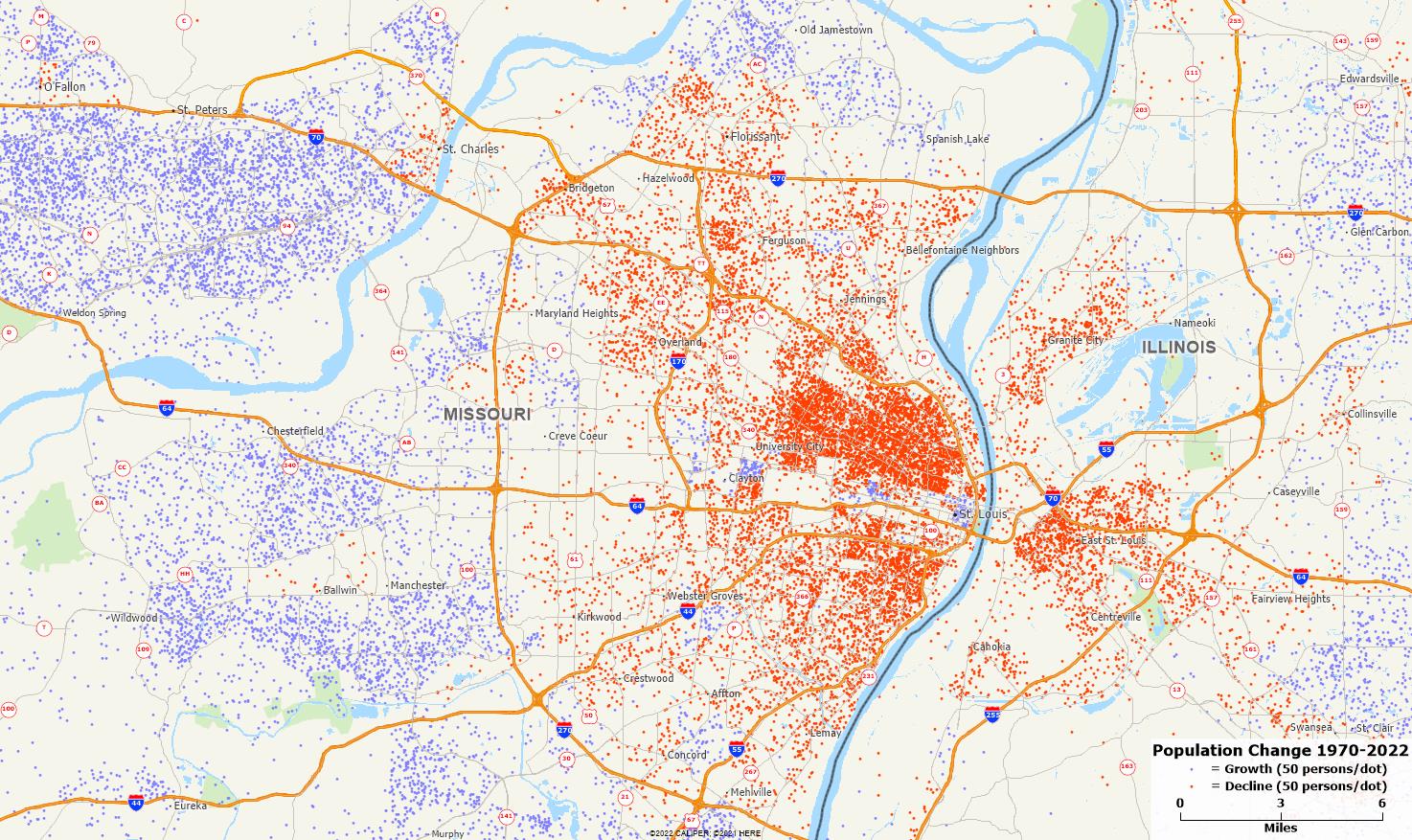 Overall, the demographics for the metropolitan area are fairly average. St. Louis has an above average percentage of adults with a graduate degree, likely due to Washington University located close to downtown. Also, slightly above average are families with children in the home and median housing age. Below average demographics include households where English isn't spoken in the home, linguistically isolated households, unemployment rate and households below the poverty line. Median value of owner occupied housing units is about $187,000, and cash rent is about $700 a month, both slightly above average.
With recent gentrification efforts, will downtown see a resurgence, or will the suburbs remain more desirable for the families of St. Louis?