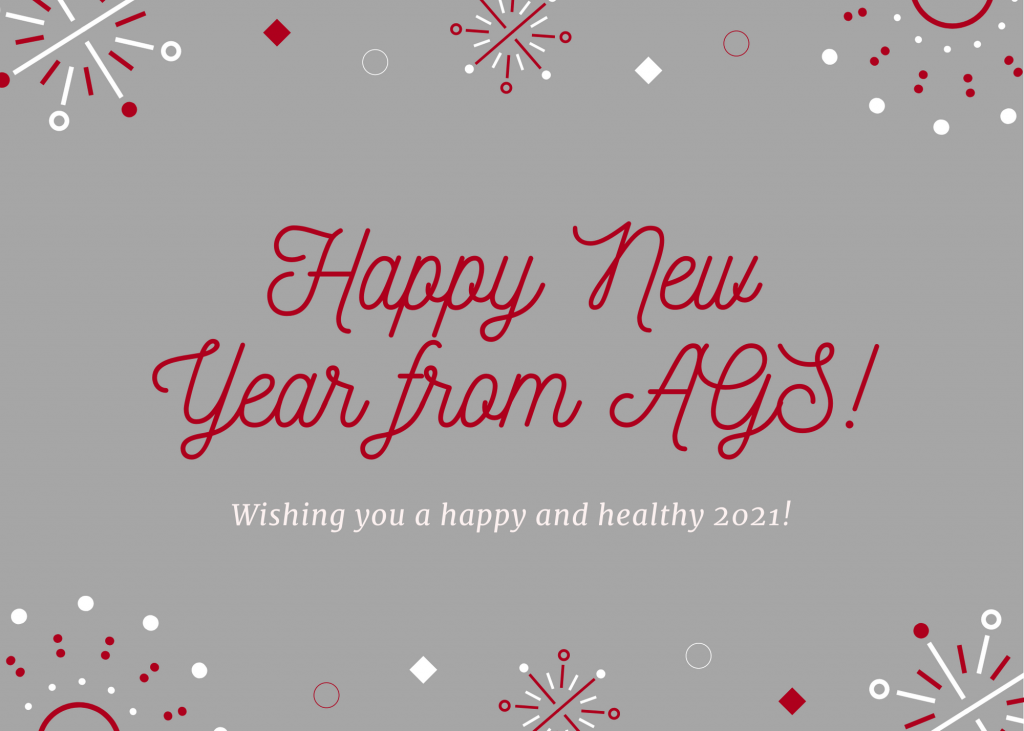 2020 Reflections
Throughout history, the regular appearance of pandemics has had a profound effect on the cultures and nations in their paths. While certainly not yet on the level of those plagues that toppled empires, the COVID-19 epidemic will likely be remembered as one of the pivotal black swan events of the early years of the millennium, with significant and perhaps permanent changes affecting everything from interpersonal relationships to global geopolitics. This year will be forever marked by the many deaths attributed to COVID-19; our condolences to all who lost friends and family this year to the virus. 2020 will also be remembered as a year of isolation, massive job loss and the demise of many small businesses.
Black swans appear regularly, but unpredictably, and like everyone else, we were certainly taken by surprise in March. For AGS, 2020 has certainly been eventful. Like many technically oriented companies, we generally shied away from such business essentials as sales and marketing, choosing to focus on nerdy type stuff like 'making spatial autocorrelation work for you'.
The addition of Elyse Robinson has resulted in a cohesive and consistent message through an increasingly well-read weekly newsletter, increased collaboration with our channel partners, a growing library of literature, and a revamped web site. She tolerates, barely, the grumbling and whining of the techies who now constantly mutter about 'marketing wants….'.
In a brilliant display of poor timing, just two weeks prior to the first California lockdown (like anybody expected a second?) we reconnected with an old AGS friend John Hobson who has worked tirelessly to introduce AGS to new industries and new channel partners.
Perhaps because of black swans, perhaps out of boredom from being incarcerated in our own homes, 2020 has been one of our most productive years on both the data and delivery side. We introduced several new data products this year –
Weekly unemployment estimates
Non-resident population by traveler type and season, allowing businesses to accurately account for tourism effects on site location decisions and performance analysis
Five-year projected CrimeRisk at the block level
Wildfire risk indexes
Not satisfied with simply producing more and more variables – the AGS library now consists of over 36,000 variables for each block group nationwide – we have also turned our attention to our delivery systems. The new Snapshot engine is a full order of magnitude faster and supports a broader range of features than our previous SDRE engine that not only powered Anysite but served us well for nearly two decades.
Like most of you, we view 2020 as a poorly behaved house guest who lingers long after the welcome mat has been removed. We cannot say goodbye and good riddance too soon.
With the new year comes a renewed sense of hope and, as the pandemic eventually peters out, a return to some degree of normalcy and an end to the isolation that we have all endured. We hope that you share our optimism.
2021: The Path Ahead
Many people mark the new year with a long list of resolutions, many of which they know they will not be able to keep and others that they, if they are honest, do not even intend to keep. It somehow makes us feel good to set goals, even if they are lofty, and AGS is no exception. However, unlike the overly optimistic list that we might privately have, here we will share only those resolutions to which we are seriously committed and determined to bring to fruition.
Content and delivery are what we are all about, and 2021 will be an important year on both fronts.
Here, in brief, are the plans we have for the coming year….
2020 Census Integration
The 2020 census, now significantly delayed, will make its appearance over the coming year. The redistricting counts – on the 2010 census boundaries – will be reflected in the 2021A release. The 2020 geography files should be released by mid-year, and this will require a complete re-estimation of the historical data dating from the 1970 census onto the new boundaries. By the time that the summary tables are released, all the boundary conversion work should be complete, and we will be ready to integrate the 2020 census with the 2020 ACS release by the end of the year. The resulting dataset will serve as the historical reference point for the decade.
New and Expanded Databases
While much of our focus will be on the integration of the 2020 census, we have several projects either underway of planned –
New environmental risk elements, covering tsunamis, coastal storm surge, and seal level change which will be released in the spring, and volcano and landslide risk for the fall.
A revived QoL (Quality of Life) database which has been missed by many of our users in the real estate world.
An extensive reworking of our core consumer expenditure and health care demand models.
Data Delivery
The Snapshot API will continue to be expanded over the coming months to include a wider range of features including –
Panorama profiling, targeting, and direct marketing tools
Geographic tagging and appending tools
Hotspot analysis
Trade area delineation tools that work with a range of mobile location data providers
Presentation reports including graphic elements
For channel partners used to the Snapsite desktop environment, we expect to have a replacement environment ready by the fall which seamlessly interacts with the API environment, providing a small footprint platform for rapid data retrieval.
Ambitious? Yes, but then again, we do expect the current lockdown environment to continue for some time, and we shall have nothing else to do with our spare time….